Expedition
From RogueBasin
(Difference between revisions)
Line 4:
Line 4:
 

|theme = Discovery of the New World

 

|theme = Discovery of the New World

 

|released = 2009

 

|released = 2009

−

|updated = 2010 Jul 10 (0.1.7)

+

|updated = 2010 (0.1.)

 

|language = [[Java]]

 

|language = [[Java]]

 

|platforms = [[Java]]

 

|platforms = [[Java]]

Line 15:
Line 15:
 

The original version of this game was [[Slash]]'s entry for the [[7DRL Contest 2009|2009 7DRL programming challenge]].

 

The original version of this game was [[Slash]]'s entry for the [[7DRL Contest 2009|2009 7DRL programming challenge]].

 
 
−

Source code can be downloaded from http://code.google.com/p/expedition/

+

Source code can be downloaded from http://.

 
+

 

 
+

.com//

 
 
 

== Description ==

 

== Description ==

Line 23:
Line 25:
 
 
 

== Features ==

 

== Features ==

 
+
 

* High definition map of America and the Atlantic Ocean

 

* High definition map of America and the Atlantic Ocean

−

* No experience points, expedition-based combat

+

* No experience points,  

−

* Each expedition is composed of several units with different skills

+

* of units

 

* Spanish music

 

* Spanish music

−

* No experience points

+

* Simplified Command Set  

−

* Simplified Command Set

+
 
 
 

== Screenshots ==

 

== Screenshots ==

 
+
 
+
 

http://slashie.net/share/expedition017-2.png

 

http://slashie.net/share/expedition017-2.png

 
 
---
Revision as of 01:54, 21 September 2010
The original version of this game was Slash's entry for the 2009 7DRL programming challenge.
Source code can be downloaded from http://slashie.net
http://www.youtube.com/v/sK0rnyZ5f6A?fs=1&hl=en_US
Description
Expedition is a roguelike game of exploration and massive combats.
In the game you, a Spanish explorer from the end of the XVth Century, have to stock up an expedition to the New World, travel there, and found colonies in the name of the crown. In your quest, you will find marvelous places and face hostile natives through the New World, in order to obtain their riches for your kingdom.
Features
Sailing through the ocean
High definition map of America and the Atlantic Ocean
No experience points,
Battles between groups of units
Spanish music
Simplified Command Set
Screenshots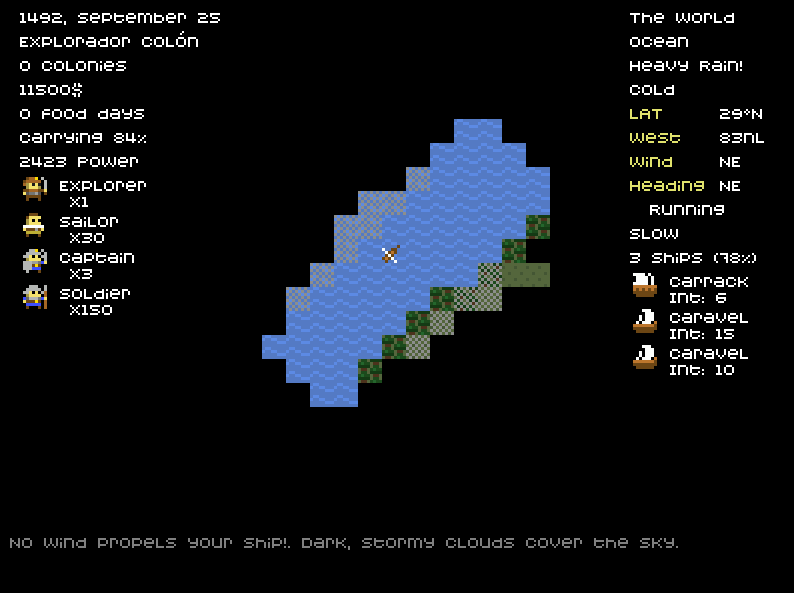 Requirements
Java Runtime Environment 1.6.0 [1]
Website